Discover more from The Glenn Meder Newsletter (soon The Liberty Zeppelin)
The Liberty Zeppelin is an independent, reader-supported publication created by Glenn Meder to speak up for our inherent, inalienable rights and to stand up to the power-mongers that seek to strip us of these rights. Support independent voices!
Over 18,000 subscribers
How Have I Never Heard of Jicama Before?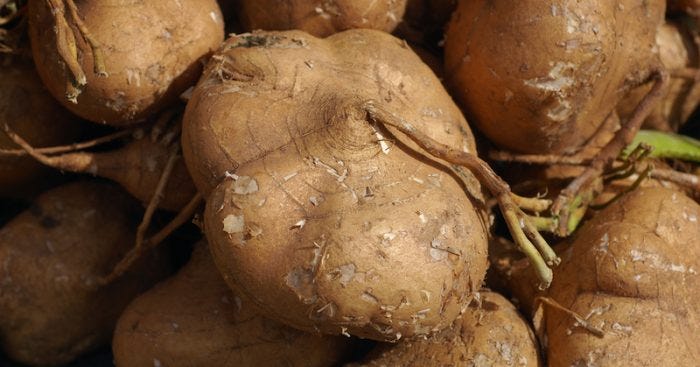 Jicama tastes fantastic and is good for you.
Have you heard of jicama (pronouonced Hick-a-Ma)? If not, I recommend that you check it out. It's pretty fantastic. Think of a perfectly crisp apple; not as sweet (it's mild-sweetness is perfect).
My wife and I LOVE it. In fact, we now find ourselves planning our grocery shopping based on which grocery stores sell jicama.
And, it's one of those foods that you feel really good about eating because it's good for you in so many ways. Jicama is packed with nutrients, and it's very high in fiber and inulin, which is a prebiotic - this means that it's really good for gut health, which is something I've been really focusing on lately.
There are all kinds of ways to eat jicama. Some people like to put all kinds of seasonings on it and dress it up, but I like it raw. No seasonings at all.
From my experience, look for a softball size or smaller and it needs to be dense, because that means it has a high water content. Simply cut off the skin and cut up the flesh into squares or 1/2 inch sticks.
If you want to learn more, check out this article about jicama's health benefits, and this article about tips on preparing it.